Help the development of the site, sharing the article with friends!
Perennials or shrubs that cover the ground extensively and densely like a carpet are referred to as ground cover. These plants are characterized by their low and dense habit and the ability to form wide cushions. In addition to the evergreen specimens, which are used again and again, it is above all the flowering beauties that emphasize a sunny bed or an ugly corner in the garden with their very own charm.
ground cover
Benefits of ground cover plants
There is a lot to be said for planting ground cover in the garden. Carpet medlar, star moss or blue cushion fill disturbing or bare gaps in the beds and create green carpets or blooming splashes of color along the way, between stone slabs and under shrubs.
Ground covers also have very specific functions:
protection against erosion
suppress weeds
protect against heat and cold
retain moisture better in the soil
loosen up the soil
Suitable plants
Location is the most important factor when choosing plants. There are countless ways to use ground cover for partially shaded beds. If it is a place in the sun, attractive areas can be created with low, sun and heat-tolerant perennials and shrubs. In addition to the location and the soil conditions, attention should also be paid to the plant's willingness to grow. For example, ivy, as a ground cover, quickly and reliably greens large areas, but is then very difficult to control. Classic ground covers are robust and require little maintenance. In order to keep the effort within limits, it makes sense to select plants that are both perennial and hardy.
flowering varieties
Flowering varieties for dry locations in the sun
Locations in the sun are often associated with soil conditions that are dry and poor in nutrients. These conditions must also be taken into account when selecting plants. Mediterranean, low-growing perennials are particularly suitable as ground cover or plant species that come from alpine regions.
African ring-necked daisy (Anacyclus depressus)
tripinnate, grey-green shimmering leaves
bicolored flowers from May to September
Growth height: 5-10 cm
Andean cushion (Azorella trifurcata 'Nana')
very flat cushion perennial
evergreen, feathery foliage
Green-yellow flowers in May and June
Growth height: 3-5 cm
Mountain Chickweed (Arenaria montana)
numerous white flowers in May to June
very drought tolerant
Soil: not very demanding
Growth height: up to 15 cm
Blue-green prickly nutlet (Acaena buchananii)
white-grey to greenish foliage
single white flowers in June/July
forms beautiful, prickly fruit ornaments
Growth height: 5 to 8 cm
10 to 12 plants per m²
Speedwell (Veronica)
mostly white or blue flowers (April/May)
deep green, needle-like foliage
loose, permeable soil
Growth height: 10 cm
Speedwell, Veronica
Garden sage (Salvia nemorosa)
Pillow-forming perennial
white or violet umbels of flowers from June to September
also tolerates heat and drought
Growth height: 30 to 40 cm
Wood sage, steppe sage, Salvia nemorosa
Autumn Catchfly (Silene schafta)
delicate, loose growth
intensely colored flowers in August and September
very adaptable and hardy
Growth height: 10 to 15 cm
10 to 12 plants per m²
Catchfly, Silene italica
Hornwort (Cerastium tomentosum)
attractive silvery-white foliage all year round
Soil: rocky and dry
small white flowers in May
Growth height: 10 cm
4 plants per m²
Cushion Carnations (Dianthus cultivars)
Flowers mostly in different shades of red or white
very long and rich flowering
also grows on stony and sandy soils
Growth height: 15 cm
Carnations, Dianthus
ice plant (Delosperma cooperi)
Flowers only open in the midday sun
intensively colored flowers from June to August
Leaves store water
suitable for full sun locations
Growth height: 10 to 15 cm
Cushion phlox/carpet phlox (Phlox subulata)
very wide range of flower colors
blooms profusely (May to June)
conditionally winter green
Growth height: 10 cm
cushion phlox
Porcelain stars (Houstonia caerulea)
profusely flowering small perennial
completely blue during flowering in May/June
needs acidic, stony soil
Growth height: 5 to 20 cm
conditionally winter green
Teucrium chamaedrys
native wild perennial
loose, flat, spreading growth
purple-pink flowers in July/August
Growth height: 20 to 25 cm
Germander, Teucrium chamaedrys
Mountain avens (Dryas varieties)
very undemanding plant from the alpine region
small, white flowers with a yellow center (June-July)
beautiful fruit decoration
Foliage also visible in winter
Growth height: 15 cm
Prickly Nuts (Aceanea microphylla)
for all difficult to plant areas
very undemanding
filigree, green foliage, turning coppery in autumn
Flowers: small white flower balls in June/July
crimson, very decorative nutlets in autumn
Growth height: 10 cm
Stonewort/Saxifrage (Alyssum)
clumpy to carpet-like growth
yellow flowers in April to May
beautiful in combination with blue cushions
Growth height: 15 cm
Rock Alyssum, Alyssum saxatile
Carpet / cushion bellflower (Campanula poscharskyana)
heart-shaped, fresh green leaves, semi-evergreen
white or violet flowers from June to September
Growth height: 10 cm
Carpathian Bellflower, Campanula carpatica
Carpet/cushion soapwort (Saponaria ocymoides)
forms large cushions
for dry soils in full sun
pink flowers from May to June
Growth height 20 cm
carpet-forming plants
Carpet-forming plants for semi-shade
Although some ground cover plants need a very bright location, they do not tolerate blazing midday sun or heat. In addition, they prefer to grow in humus-rich, nutrient-rich soil that is better at retaining moisture. A location in the light semi-shade can be found, for example, next to low trees or tall perennials. Recommended as ground cover are low-growing perennials and small shrubs with good winter hardiness.
Cyclamen (Cyclamen species)
rounded leaves, purple from below
spreading flat
pink flowers
needs light winter protection
Growth height: 5 to 10 cm
Autumn Cyclamen
Ground cover roses (Rosaceae)
flat-growing species
floriferous, in many color variations
Lime tolerant and insensitive to drought
Growth height: up to 30 cm
Chinese leadwort (Ceratostigma plumbaginoides)
sprouts late
competitive
lime tolerant
bright, gentian blue flowers (August to October)
wine-red autumn colour
Growth height: 25 cm
Chinese leadwort, Ceratostigma plumbaginoides
Partridge berry (Mitchella repens)
flat mat forming shrub
fragrant flowers in May to June
dark red berries
dark green leaves with light veins
reddish shoots
Growth height: 5 to 10 cm
Spring Commemorative (Omphalodes verna)
adaptable area cover
sky blue, small flowers in April to May
Growth height: 10 cm
15 to 17 plants per m²
memorial
Crawling Bugle (Ajuga reptans)
creeping shrub with long runners
different leaf colors (green, reddish)
spike-shaped flowers from April to May
evergreen
Growth height: up to 20 cm
Creeping bugle, Ajuga reptans
Fingerbush (Potentilla fruticosa)
densely branched, ground-covering small shrub
different flower colors
Continuous bloomers from May to October
undemanding to the ground
Growth height: 40 cm
cinquefoil
Canadian dogwood/carpet dogwood (Cornus canadensis)
grows almost creeping
small, creamy white flowers in June
bright red colored fruits in autumn
orange to red fall color
loose, slightly acidic humus soil
Growth height: 10-20 cm
6-8 plants per m²
Hornbush, Cornus, Dogwood
Knotweed (Bistorta)
forms a fresh green carpet of leaves
many flowering candles from May to October
Soil: moist to moist fresh
Growth height: 25 cm
candle knotweed
Lip mouth (Mazus reptans)
also for the edge of the pond
moist soils
Snapdragon-like flowers in May/June
Growth height: 3 to 8 cm
light winter protection necessary
Saxifrage/Bergenia (Bergenia)
very adaptable (suitable for almost all locations)
thick, green or green-red foliage
Flower umbels in April/May
Growth height: between 20 and 50 cm depending on the variety
Bergenia, Bergenia
Cranesbill (Geranium)
compact, bushy growth
Flowers of different colors from June to October
Growth height: 30-45 cm (depending on variety)
4 to 5 plants per m²
cranesbill
Dwarf chinensis (Astilbe chinensis var. pumila)
carpet-like spread
many, tuffy inflorescences in August/September
pinnate, dark green foliage
Growth height: 20 to 30 cm
Royal spars, Astilbe
Walkable ground cover
Today, ground covers are becoming increasingly important. Increasingly, they are even being used as a lawn substitute in the garden. However, only very few plants tolerate frequent walking, as otherwise unsightly walkways are created. Sturdy or walkable usually only means occasional walking - and even barefoot. There are a number of plants that are suitable as walkable groundcover and also grow best in a spot in the sun or partial shade. All listed ground cover plants are perennial, hardy and require little maintenance.
Feather Pad (Cotula squalida, Laptinella squalida)
blue-green, fern-like leaves
sunny to semi-shady
small, yellow flowers in midsummer
Growth height: 5-10 cm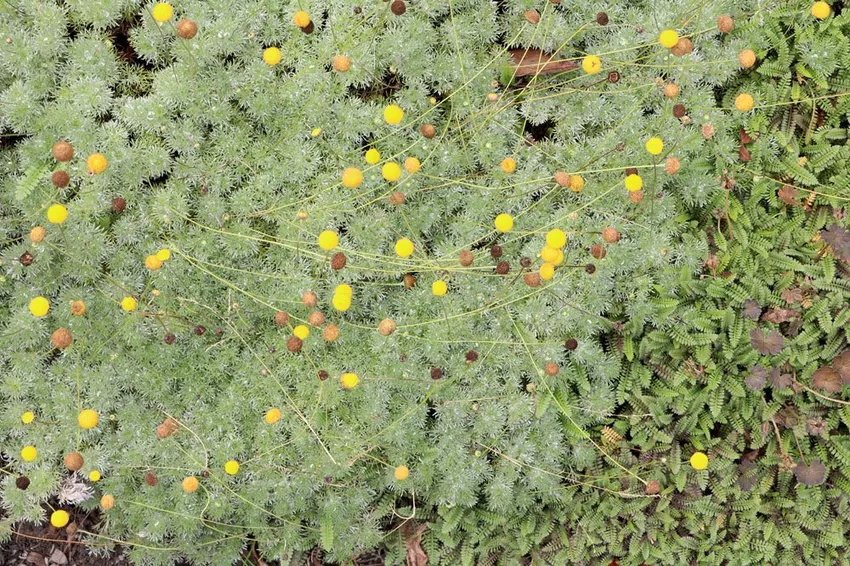 Silver pinnate, Cotula hispida
Gaudich (Isotoma fluviatilis)
creeping scented plant
countless blue or white flowers from June to August
hardwearing
full sun to part shade
Growth height: 10 cm
Blue bobcat, Isotoma fluviatilis
Wild thyme (Thymus serpyllum)
fragrant, densely growing cushion perennial
deciduous
Flowers: very rich, mostly reddish tones (June to August)
Soil: lean, sandy, rather dry
Rock gardens, green roofs, gaps between joints
Wild thyme, wild thyme, Thymus serpyllum
Star Moss (Sagina subulata)
many small but numerous flowers in June to August
needle-like, evergreen foliage
no special demands on the soil
Also suitable for rock gardens, green roofs and slab recesses
Growth height: 3-5 cm
Star Moss, Sagina subulata
Cotoneaster dammeri
shrubby creeping growth and dense branching
many white flowers in May and June
red fruits last until spring (low toxicity)
prefers partial shade with evenly moist soil
lime loving
Growth height: around 40 cm
cotoneaster
Lemon Thyme (Thymus citriodorus 'Aureus')
fragrant ground cover for the rock garden
evergreen
Location: sunny (also tolerates drought and heat)
edible
hardy
Growth height: 10-15 cm
Lemon Thyme, Thymus citriodorus
Evergreen Varieties
Evergreen perennials and dwarf shrubs are suitable for making the garden easy to care for and to have few bare spots in the beds even in winter. They form a green plant cover all year round. However, most evergreen perennials only retain their foliage in mild winters or in sheltered locations. The winter sun and severe frost can cause the green carpet of plants to disappear for a short time. However, since the species listed are very hardy, they usually sprout again reliably in spring.
Blue Cushions (Aubrieta Hybrids)
flowering from March, long flowering period
usually in shades of blue or purple
sunny to off-sun
drought resistant
Growth height: 5 to 10 cm
Bluecushion, Aubrieta
Garden Globeflower (Glabularia cordifolia)
low-growing dwarf perennial, carpet-forming
Soil: calcareous, rocky
sunny and warm
Growth height: 5-10 cm
spherical flowers from May to July
Periwinkle (Vinca minor)
carpet-forming dwarf shrub
dark green foliage
Flowers: Blue or white (May to September)
Soil: permeable and humic
5-7 plants per m²
Small periwinkle, Vinca minor
creeping spindle (Euonymus fortunei)
slow creeping shrub, also climbing on trees
Leaves: many colors (green, variegated)
cut compatible
Growth height: 30-50 cm
decorative small flowers and fruits
6-8 plants per m²
Spindle shrub, Euonymus
Stonecrop (Sedum acre)
forms very dense cushions
yellow flowers in June to July
Growth height: around 10 cm
suitable for dry locations
walkable
Moneywort (Lysimachia nummularia)
Area cover for the front bed area and the water edge
single, yellow flowers in May to June
Soil: freshly moist
Growth height: 5-10 cm
Loosestrife, Lysimachia vulgaris
Upholstery dot and round-leaved dot (Origanum vulgare and O. rotundifolium 'Kent Beauty')
Perennial bloomers with fragrant foliage
Spice plant with essential oils
related to oregano and marjoram
like it very sunny
Growth height: up to 30 cm
good hardy
golden wild marjoram, Origanum vulgare
Cushion Saxifrage (Saxifraga oppositifolia or S. cespitosa)
white or reddish flowers in May to June
ideal for rock gardens or green roofs
partially shaded location
Growth height: up to 10 cm
Saxifrage, Saxifraga
Roman chamomile (Chamaemelum nobile)
very aromatic
for full sun locations
white flowers from June to August
Growth height: 25 cm
Rockrose (Helianthemum)
evergreen dwarf shrub
cupped flowers of yellow, orange or red (May-July)
Location: sunny and not too humid
Growth height: 20 cm
Yellow rockrose, Helianthemum nummularium
Rockseed (Lithodora)
Evergreen dwarf shrub, herbaceous growing
forms dense cushions
bright blue sea of flowers in summer
Location: sunny
Growth height: up to 15 cm
Rockseed, Lithodora diffusa
Carpet Fat Leaf (Sedum spurium)
compact, dense growth
rich, intensively colored flowers from July to August
also suitable for roof greening
Growth height: 15 cm
Sedum
Carpet Strawberry (Fragaria chiloensis 'Chaval')
dark red flowers (May to August)
edible berries
partially shaded, humus rich soil
Growth height: 10-20 cm
Wild Strawberry, Fragaria vesca
ornamental leaf perennials
Ornamental leaf perennials bring color to the garden for several months, and evergreen varieties even all year round. There is also a large selection for sunny locations. When choosing ground cover, pay attention to the site and soil conditions. Some species tolerate full sun others prefer a few hours of shade.
Mountain silver mantle / silver lady's mantle (Alchemilla hoppeana)
native perennial
fan-shaped, green foliage (deciduous)
prefers calcareous soils in the sun
Flowers: simple, green-yellow in June to September
Growth height: 6-10 cm
lady's mantle
Blue-grey Bacopa (Sedum cyaneum 'Sakhalin')
compact, flat growth
bluish-grey, thick leaf rosettes
Location: sunny
rich flowering variety (pink, July to September)
Growth height: 5-10 cm
Sedum telephium Xenox, Tall Stonecrop, Garden Bacopa
Variegated broadleaf sedge (Carex siderosticha 'Variegata')
wide leaves with a white border
for partially shaded places
spike-shaped flowers in May
deciduous
Growth height: 30-40 cm
Rough sedge, Carex hirta
Colorful lizard tail (Houttuynia cordata 'Chameleon')
multicolored variegated foliage
small, white flowers (June/July)
full sun or shade
can also be planted in moist soil (up to 5 cm water depth)
Growth height: 30 to 50 cm
Cinquefoil feather carpet (Cotula pontentillina)
fast-growing species with pinnate leaves
evergreen
small flowers in May to June
Soil: slightly damp
Location: sunny
Growth height: 5 cm
Silver pinnate, Cotula hispida
Lady's Mantle (Alchemilla mollis)
unusual leaf shape
adapts well to different locations
yellowish-green flowers in June/July
Growth height: 30-40 cm
Lady's mantle, Alchemilla xanthochlora
Cat's Paw (Antennaria)
silver-green leaf rosettes with hairy leaves
white or purple inflorescences (May to July)
sandy, rather acidic soils in the sun
Growth height: 8 to 10 cm
Purple Bells (Heuchera)
Leaves available in all colors (greens, violet, copper, cherry red, grey-blue)
inconspicuous umbels in June to August
bright but no midday sun
Growth height: 20-30 cm
Silverleaf Crimson Bells
shield leaf (Darmera peltata)
shield-shaped, large leaves (20-45 cm)
Flowers in April before the leaves emerge
intensive autumn colours
Soil: fresh to moist
for sunny water edges and open spaces
Growth height: up to 80 cm
shield sheet
Carpet Woolly Ziest (Stachys byzantina 'Silver Carpet')
fluffy hairy leaves
flat-growing variety with almost no flowers
well-drained soil
wintergreen
Location: full sun, dry
Growth height: 30 to 40 cm
Wollziest
Help the development of the site, sharing the article with friends!