Help the development of the site, sharing the article with friends!
Bee-friendly flowers should not be missing in any garden. It is important to cover every month between March and October with nectar-rich flowering plants so that the insects always find plenty of food. These 47 types are particularly recommended.
In a nutshell
In particular, wild species and flowers that have not been cultivated much are valuable to bees
Only put unfilled, never half-filled or filled varieties in the flower bed
Pay special attention to species that bloom early and late, as insects find little food, especially in early spring and late summer
Species richness in the garden is important, since wild bees in particular specialize in certain types of plants
popular species such as geraniums, petunias and hybrid tea roses are of no value to bees as they hardly contain any nectar or pollen
Perennial flowers
Planting bee-friendly flowers that bloom for months not only ensures long-lasting splashes of color in the garden. Insects also find plenty of food throughout the growing season.
Tip: Bee-friendly flower mixes are widely available on the market. With these you can create a colorful flower meadow or a flower bed in no time at all.
Asters (Aster)
There are around 180 different types of asters that bloom in spring, summer or fall, depending on the species and variety. The autumn-flowering varieties such as the smooth-leaf aster (Aster novi-belgii), which usually shows its blue or pink flowers between September and November, are particularly valuable for bees. Meanwhile, with various asters in the garden, insects will find enough food all year round.
Gypsophila (Euphorbia hypericifolia)
The spurge plant, also known as magic snow, is a new breed that is very attractive to bees and other insects due to its abundance of nectar. The pretty plant flowers very persistently between April and October, it also stays low and is therefore ideal for the balcony or as a ground cover in the garden.
Blue fan flower (Scaevola aemula)
Pretty, easy-care plant for the balcony and garden, which flowers continuously between May and October. Contrary to the name, the flowers of the fan flower are blue, violet, pink or white, depending on the variety.
Borage (Borago officinalis)
Annual borage has pretty, star-shaped flowers in blue or purple that bloom profusely between May and July. Borage is a valuable, bee-friendly nectar or pollen plant that can also be used in the kitchen.
Borago officinalis, borage
Bush mallow (Lavatera olbia)
The bush mallow, which grows between one and four meters high depending on the variety, is a bee-friendly, valuable nectar or pollen forage plant and should therefore not be missing in any garden. It flowers continuously between July and October.
Speedwell (Veronica)
The approximately 450 different species of Speedwell bloom pretty and persistently, and the blue, violet, pink or white flowers are a real bee magnet.
Speedwell, Veronica
Common yarrow (Achillea millefolium)
The native wild plant is an important food plant for bees and other insects. For the garden there are now not only white, but also red or pink flowering cultivars. The related, bright yellow flowering Golden Sheaf is also very popular with our buzzing garden friends.
Spice marigolds (Tagetes tenuifolia)
In contrast to the frequently planted marigold with double flowers, the spice tagetes has open, star-shaped flowers and is therefore a valuable food plant for insects. The annual flowers bloom continuously between June and October.
gold lacquer (Erysimum cheiri)
The usually yellow, orange, red or even multicolored flowers of the gold lacquer can be admired between April and July. The pretty plant is rich in nectar and pollen and therefore a fodder plant that should not be underestimated.
Wallflower, Erysimum cheiri
Nasturtium (Tropaeolum majus)
If you are looking for bee-friendly flowers, you cannot avoid the nasturtium. There are both high, climbing and low-permanent species. The latter can be placed just as well in the garden bed as cultivated on the balcony. The nasturtium flowers continuously between July and October.
Humulus japonicus
Snapdragon (Antirrhinum)
The easy-care, annual snapdragon is very popular as a fodder plant and as a garden ornament. There are different types that grow between 20 and 100 centimeters high. The flowers appear between June and September.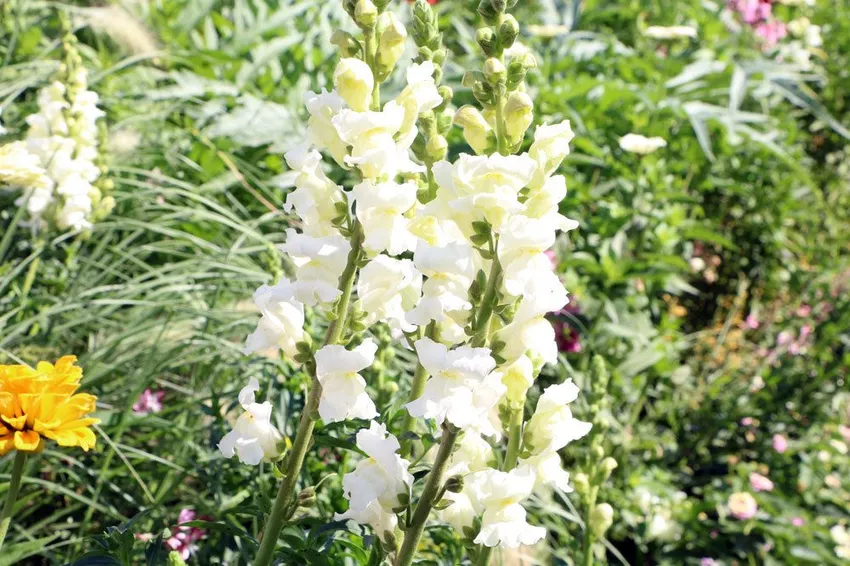 Meal Sage (Salvia farinacea)
The annual perennial bloomer is one of the most important nectar or pollen plants in the garden. The whorls of blue or white flowers can be admired between June and October.
Purslane (Portulaca grandiflora)
The annual succulent blooms profusely and in many colors between June and August. This bee-friendly flower is ideal for rock gardens, pot gardens, borders and borders.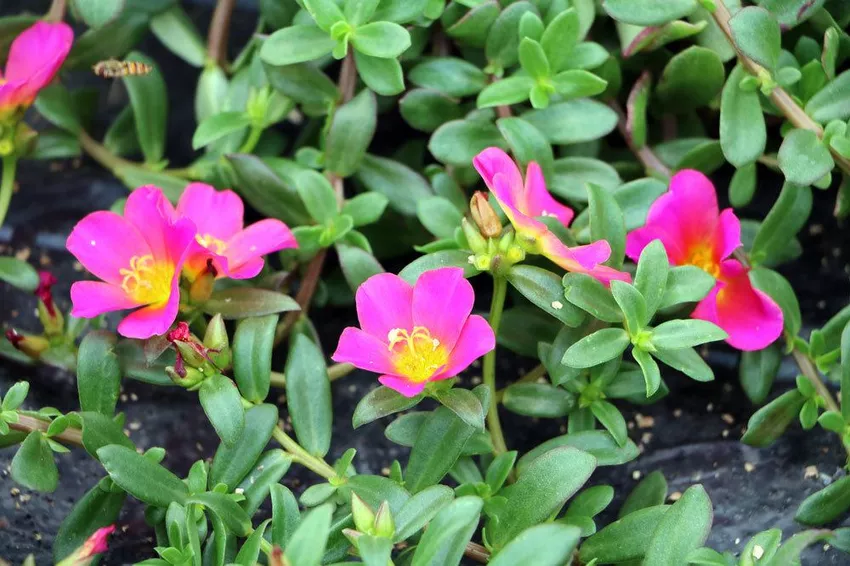 Marigold (Calendula officinalis)
The colorful and easy-care marigolds set bright color accents in the garden. They bloom continuously between May and October.
roses (pink)
Of course, no garden should be without roses. However, if you want bee-friendly types and varieties, wild roses are a good choice. A hedge of native roses such as the vinegar rose (Rosa gallica), burnet rose (Rosa pimpinellifolia), apple rose (Rosa villosa) or felt rose (Rosa tomentosa) is not only a bee magnet, but also a profitable planting for all kinds of garden dwellers such as insects , birds, hedgehogs and other small animals.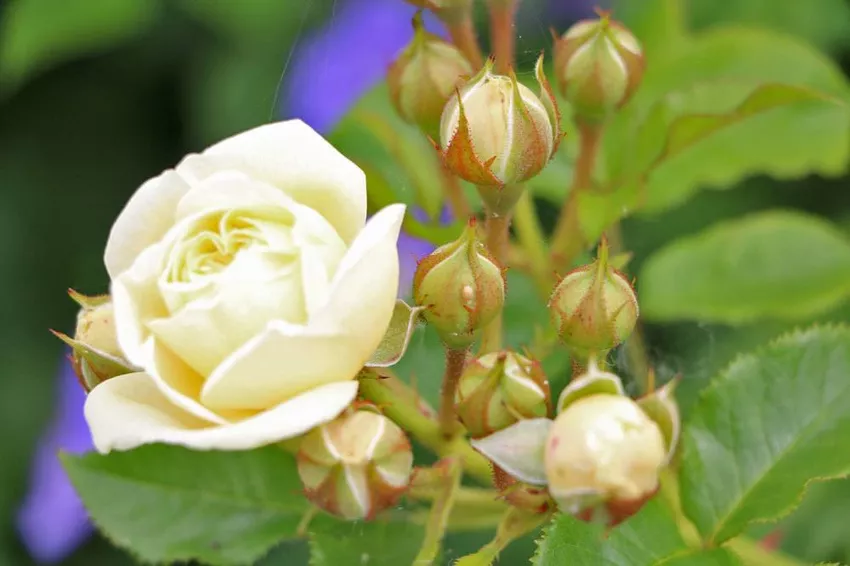 snowflake flower (Sutera cordata)
The pretty snowflake flower adorns the balcony and garden between May and October with numerous snow-white flowers. There are also pink, blue or violet flowering varieties.
Cranesbill (Geranium)
The species and varieties of cranesbill that bloom in many different colors are also real bee magnets. This flower blooms white, pink, red, violet or blue, and there is a suitable variety for every location - whether sunny or shady.
Vanilla flower (Heliotropium arborescens)
The densely bushy vanilla flower can be cultivated both in the garden and in pots on the balcony. It flowers continuously between May and October and has a strong scent.
verbs (verbena)
This plant, also known as verbena, is undemanding, easy to care for and rich in lush umbelliferous flowers that appear between May and October. Also suitable for the balcony.
Verbena officinalis
Lantana (Lantana camara)
The small clusters of flowers of the lantana appear between May and October in bright, sunny colors such as yellow, orange, red and pink. There are also white and even multicolored varieties of this valuable nectar and pollen plant, which can also be cultivated on the balcony or terrace.
Wild mallow (Malva sylvestris)
This pretty summer flower, which blooms continuously between May and September, is a native wild plant.
Wild mallow, Malva sylvestris
Zinnias (Zinnia)
Zinnias with their lush, colorful flowers are bee magnets and should therefore not be missing in any garden. There are different types and varieties, all of which are cultivated as annuals.
Bee-friendly flowers for spring
Early flowering plants are important for bees and other insects - for example the bumblebee, which appears very early in the year, as the food supply is naturally low at this time. Early bloomers like the ones presented here help to reduce insect mortality.
Tip: If possible, only use flower types with unfilled blossoms, as only these can be used by the humming folk. Breeding-processed, double varieties contain little or no nectar.
Common dandelion (Taraxacum officinale)
For many people, the native wild plant is just an annoying weed in the garden. However, this is short-sighted, because dandelions are rich in nectar and pollen and are therefore indispensable for insects, especially in spring. By the way, dandelion honey is considered a delicacy.
Bugle (Ajuga)
The creeping bugle (Ajuga reptans) in particular is a popular food plant for insects. The bee-friendly, native wild species shows its pretty whorls of blue or purple flowers between April and June.
Dark Bugle
Crocus (Crocus)
The early flowering crocus is an important bee forage crop. It flowers so early in the year that insects are in dire need of it - after all, there aren't that many food plants in February and March. With the magnificent autumn crocus (Crocus speciosus) there is also an autumn flowering variety.
Crocus, Crocus
Primroses (Primula)
"Primula" means "the first" and so are the very early blooming flowers. In particular, the wild forms such as the cowslip (Primula veris), the globe primrose (Primula denticulata) and the cup primrose (Primula obconica) are valuable forage plants for bees and other insects at a time of year when the choice of food is still very limited.
Snow Heather (Erica carnea)
The same applies to the snow or winter heather, which is one of the flowers that bloom very early. Its pretty flowers appear between January and April.
Columbine (Aquilegia vulgaris)
Also known as Common Columbine. These flowers are popularly known as elf's shoe, jester's cap, or dove flower due to the striking shape of their blooms.
Plenty of food for bees in summer
In summer, the selection of plants is particularly large. Make sure that suitable flowering plants are available, especially in late summer - because from this point on the food supply is reduced again.
Tip: Whenever possible, prefer wild forms to bred ones. These are particularly bee-friendly and there is also a large selection of different types.
Bee friend (Phacelia tanacetifolia)
The Phacelia, which is particularly popular as green manure, does not bear its German name "Bee Friend" without reason. The annual nectar and pollen plant displays its pretty purple or blue tubular flowers between June and October.
Catnip (Nepeta cataria)
The real catnip is not only attractive to furry four-legged friends, but is also a bee magnet. Flowering takes place between April and July.
Nepeta cataria
Common thyme (Thymus vulgaris)
However, herbs such as thyme are far too valuable just for use in the kitchen. They are also pretty, bee-friendly flowers, whose nectar-rich flowers feed numerous insects.
Fat hen (Sedum)
The various Sedum species are indispensable in a natural garden, after all they attract countless insects and thus counteract insect and bee deaths.
Sedum, stonecrop
Loosestrife (Lythrum salicaria)
The purple loosestrife's bright dark pink flower spikes offer a veritable feast for the humming folk. The native wild plant also cuts a fine figure in the garden.
Bluebells (Campanula)
The characteristic blossom of the bluebell, meanwhile, delights the viewer between June and September.
Cornflower (Cyanus segetum)
With its unmistakable blue, the wild cornflower stands out in every grain field. But not only in nature, also in the garden these bee magnets should not be missing - at least as long as they are varieties with single flowers.
Lavender (Lavandula)
The heavenly scent of lavender also magically attracts insects of all kinds.
Lupins (Lupinus)
With their tall flower spikes, lupins are an attraction in the flower bed - and on top of that they are irresistible to wild bees and honey bees. These pretty flowers can be admired between late May and early August.
Loyal to men (Lobelia erinus)
With proper care, lobelia - also known as male-loyal - are covered all over with numerous small, blue flowers over a period of several months. The species is also very suitable for balcony culture.
Marguerites (Leucanthemum)
The white and yellow daisies are a must in every summer meadow - and their nectar and pollen-rich flower head should not be missing in the flower bed. Here, however - as with all bee plants - only choose varieties with single flowers.
Sunflower (Helianthus annuus)
Sunflowers also magically attract bees - regardless of whether they are tall or low-staying varieties.
Sunbride (Helenium)
The coneflowers, with their large flower heads in sunny colors, are also very popular with foraging insects. In addition, these perennials are an eye-catcher in every flower bed.
ornamental onion (Allium)
Ornamental onions are extremely rich in nectar and pollen, which is why all kinds of insects like to visit the mostly violet flowers.
Nectaric flowers in autumn
In autumn, numerous late bloomers as bee-friendly flowers ensure that the insects still find enough food in October and November and do not have to starve.
Tip: Create additional shelters for wild bees in the garden, for example in piles of stones or in an insect hotel.
Dahlias (Dahlia)
Single flowering types and varieties of the popular autumn flowers are coveted bee food - however, the insects literally starve to death on the laid table on filled flower heads. Therefore, prefer varieties such as 'Waltzing Mathilda', 'Bishop of York' or 'Pooh'.
monkshood (aconite)
Although poisonous to humans, monkshood with its beautiful bell-shaped flowers is an important autumn flowering bee plant.
Autumn crocus (Colchicum autumnale)
The same applies to the autumn crocus, which blooms well into October. However, these flowers like to appear on lawns and meadows.
Autumn crocus (Colchicum autumnale)
Oregano (Origanum vulgare)
The same applies to this plant, also known as Dost or wild marjoram, as to almost all kitchen herbs: Insects such as bees, bumblebees and butterflies fly at them. Therefore, these plants should not be missing in a list of bee-friendly flowers.
Red coneflower (Echinacea purpurea)
The decorative red sun hat is also known as the hedgehog head. The decorative plant should not be missing in any natural garden, just like the Rudbeckia species, also known as "coneflowers".
frequently asked Questions
Which flowers do bees not like?
If you want to make your garden bee-friendly, you should avoid chrysanthemums (Chrysanthemum), hybrid tea roses, tulips (except wild tulips), filled dahlia varieties and popular flowering shrubs such as lilac (Syringa) or forsythia.
Are geraniums or petunias good for bees?
Neither geraniums nor petunias - both popular balcony flowers - are particularly bee-friendly. Both species are so heavily processed in breeding that they contain hardly any nectar or pollen and are therefore worthless from an ecological point of view. Fortunately, however, there is a large selection of suitable balcony flowers that you can use to make insects happy.
Are Pansies and Horned Violets Good for Bees?
The popular pansies are also heavily processed in breeding and are therefore not suitable bee forage plants. Instead, switch to the horned violets, which are rich in nectar and pollen.
Help the development of the site, sharing the article with friends!