Help the development of the site, sharing the article with friends!
The motor hoe replaces the tedious work with a spade in the garden and makes it easier for you to dig up and loosen the soil. In our guide you can read what you should pay attention to when renting a tiller.
In a nutshell
for processing light to medium-heavy soils that are as dry as possible
Electric and cordless tillers ideal for smaller areas
Gasoline for larger areas and heavier soils
Don't forget to reserve in good time
Get insurance or liability waiver
prices and suppliers
There are many hardware stores and online providers where you can rent a motor hoe on different terms. We have researched and put together an overview of costs for you. However, the prices listed apply to a petrol-powered tiller.
providers
Motor hoe with internal combustion engine
Hints
OBI
4 hours: €39.60
1 day: €49.50
1 WE: €74.25 (Fri 12:00 - Mon 12:00)
1 week: €123.75
Deposit: €175.00
- self-propelled
- Return uncleaned possible (25 € cleaning fee)
- all prices plus 10% liability exemption fee
- if petrol or similar is required: purchase in the market, money back for the rest upon delivery
bright way
4 hours: €39.60
1 day: €49.50
1 WE: €74.25 (Fri 12:00 - Mon 12:00)
1 week: €123.75
Deposit: €175.00
- self-propelled
toom
4 hours: €39.60
1 day: €49.50
1 WE: €74.25 (Fri 12:00 - Mon 12:00)
1 week: €123.75
Deposit: €175.00
- self-propelled
- Devices are always returned cleaned/emptied, otherwise the deposit will be retained/invoiced
- if petrol or similar is required: use of the remaining petrol in the device, otherwise purchase in the market
bauhaus
4 hours: €29.24
1 day: €43.87
1 WE: €66.29 (Fri 1:00 p.m. - Mon 10:00 a.m.)
from 7 days: savings rate €17.55/day
Deposit: €200.00
- Devices are always returned cleaned/emptied/with a full tank of fuel, otherwise the deposit will be retained/invoiced
- Delivery and collection of the rental item against. fee possible
- Return of unused consumables
RENTAS rental equipment
1 day: €40.00 to €66.00
1 week: €140.00 to €231.00
- Prices vary greatly depending on location
- mainly represented in northern and western Germany
- Security Deposit
erento.com
1 day: 35.00 - 52.00 €
2 days: €70.00 - €103.00
3 days: €142.00 - €154.00
1 WE: 45.00 - 102.00 €
1 week: €162.00 - €358.20
- Individuals/small businesses: sometimes cheaper
- Offer does not cover the whole of Germany
- individual deposit and rental conditions
- Partial delivery/pickup possible for an extra charge
- Prices vary greatly seasonally and regionally
Notice: Toom, OBI and Hellweg markets work together with Boels Rental. Therefore, the same prices apply in the markets. Hornbach immediately refers to the rental center of Boels Rental.
Regional conditions
In many cities there are also regional individual companies where you can rent a scarifier. We have put together a selection for you.
city
Motor hoe with internal combustion engine
Vendors and Notices
Berlin
3h: 45.00
1 day: 70.00
Deposit: 150.00
Tool rental Teltow - tools and garden equipment KAUTZ
- Gasoline (or other consumables) billed according to consumption
- limited offer
- Rent and deposit to be paid in advance
Hamburg
Small tiller
1 day: €30.00
Big tiller
1 day: €45.00
Detlev Offen e.K. - Machine & equipment rental Hamburg
- Uncleaned return possible, cleaning fee 25 €
- Deposit (usually 250 €) in advance, rental payment upon return
- Price calculation (with TP = Daily rate for up to 24 hours)
WE short (Sat 8-Mon 10) = TP x 1.5
WE long (Fri 7-Mon 10) = TP x 2
Munich
1 day: €44.00
(half day: €34.00)
Agricultural and garden technology Spindler GmbH

operation area
The tiller has several sharp and curved chopping knives that cut into the soil and break it up. This not only loosens firm and hard soil, it also gets a fine crumb structure and is thus optimally prepared for sowing. The device can also be used for weeding. However, motor hoes are not equally suitable for all soils: the machines are ideal for tilling sandy to slightly loamy soils. For very heavy, very loamy or clayey soils, however, they are only suitable if they are dry and you are using a particularly powerful model. You should avoid using the garden hoe on heavy, wet soil, as this can lead to compaction and siltation.
Firm ground can be loosened with a motor hoe.
Tip: Since such heavy soil is not suitable for planting anyway, you should improve it or, at best, remove it and fill it with humus-rich topsoil.
Area size and useful life
The size of the area to be worked and the service life are also important parameters that decide on the optimal type and size of the motor hoe.
Motor tiller, electric or battery operated: good for smaller garden areas or already tilled or light soil
Motor tiller with petrol engine: suitable for larger garden areas or fields or for areas that first have to be cleared
The period of use, on the other hand, determines the rental price. You can rent the device by the hour from many providers, which makes sense for small gardens, but is also expensive. For larger areas or for projects where you want to turn an area into a garden, we recommend renting for several days.
Tip: If you only want to try the motor hoe once or just work on a bed, it's better to ask a neighbour. Maybe he'll lend you such a device for a small fee.
Device requirements
If you want to rent a motor tiller, the device should meet the following requirements:
Drive: electric, with battery or with petrol engine
Power: at least 1000 watts or more
Number of knives: the more knives, the finer the tillage
Working width: depends on the area width
Depth setting: different depths of the hoe spur depending on the type of soil, moisture and activity (hoeing or weeding)
Attachment of additional devices: e.g. B. cultivator or plow for further work
Forward and reverse: for easier handling
Adjustability of the handlebar: in height and to the side, depending on body size
Vibration damping: limits the transmission of vibrations to the arms, protects the muscles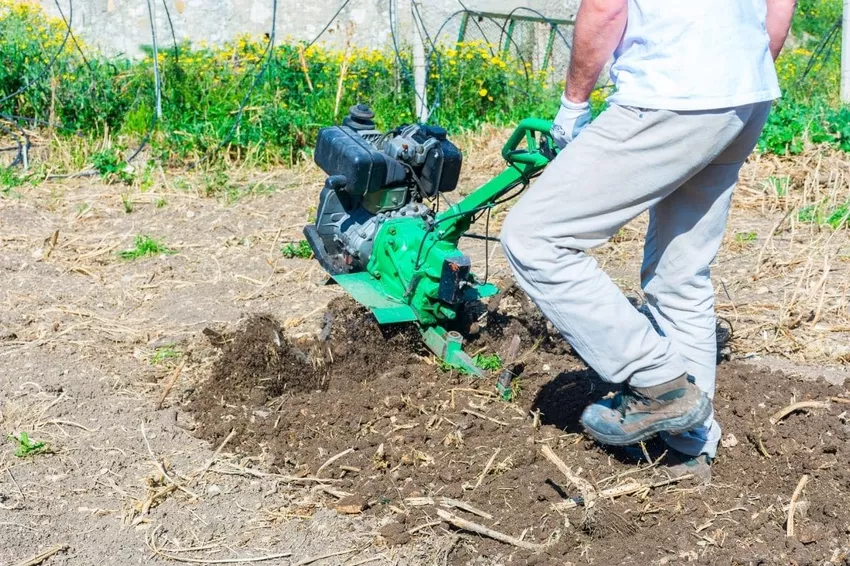 Motor hoe with petrol engine
Incidentally, you do not necessarily have to rent a large piece of equipment, as there are now small motor hoes that are as powerful as they are light. The engine power of these tillers is usually between 800 and 2000 watts and they are usually no wider than 25 centimeters. With their low weight of up to 15 kilograms, they can also be easily operated by women.
drive type
The different types of drive have specific advantages and disadvantages, which must also be considered when choosing the rental device:
Electric tiller: needs a cable connection, possibly with an extension (cable drum)
Cordless motor tiller: independent of the cable, the battery only lasts a few hours and needs to be recharged
Gasoline: very powerful, but also extremely noisy and heavy
The most environmentally friendly method of digging up the garden is and remains the spade, but immediately followed by cordless or electric tillers. However, these can only be used to a limited extent, for example because the socket has to remain within reach or the battery drains too quickly. This is why petrol tillers are best suited for large and difficult-to-work areas.
Possible problems
When renting a motor hoe, you should also bear in mind that you can be held liable for damage and possible repairs by the owner. This means if the machine breaks down or is damaged, you will have to pay for it - which in turn can be as expensive as buying a new power tiller. With some rental companies you can therefore take out insurance or a liability waiver, which can cost up to ten percent of the rental price. In addition, you cannot know who worked with the device before you and how it was treated: With a bit of bad luck, it can happen to you that the machine gives up the ghost due to previous damage and you still pay for it, even though you cannot help it have to.
Source: Ganix, Gasoline cultivator, edited from Plantopedia, CC BY-SA 3.0
Don't forget to reserve
In addition, the motor hoe may not be in stock when you want to rent it. You should therefore plan your gardening work carefully and reserve the device you want in good time - i.e. a few days in advance. You can now do this conveniently online with many providers by simply going to the homepage and filling out and sending a form under the appropriate tab (often it says "rent"). Of course you can also call the rental company and make the reservation over the phone.
frequently asked Questions
Where can you rent a tiller?
You can rent a motor tiller either from a larger hardware store such as Hornbach, Hagebau, Obi, Bauhaus or Toom, or from a tool rental shop near you. Just ask at the information desk in the hardware store or search the internet or the yellow pages for a local tool rental.
When is it better to buy the motor hoe?
However, renting such a device is not exactly cheap, you have to reckon with a price of at least 40 to 50 EUR per day - depending on the type and size of the tiller. Therefore, if you use them regularly two to three times a year, it may be worth buying. However, if you only want to use the device once or just try it out, then we recommend borrowing it.
How much does a tiller cost when you buy it?
How much you spend on the tiller depends on its type and size. Larger models with petrol engines are more powerful, but also significantly more expensive than those that are electrically or battery operated. While you can get an electric motor tiller from EUR 70, a petrol model costs at least EUR 250.
Help the development of the site, sharing the article with friends!