Help the development of the site, sharing the article with friends!
Professional bar mowers are mainly used in agriculture for combine harvesting and for cutting fodder grass meadows. Nevertheless, the mowers are also suitable for rougher work in your own garden. We will show you what to look out for when renting a bar mower.
In a nutshell
Bar mowers are front mowers
not suitable for normal garden lawns
are used when the grass is at least 20 centimeters long
also create difficult terrain
can be rented from specialist retailers
Rental prices and providers
The price for a new front mower is between 700 and more euros. Added to this are the costs for maintenance and care, such as sharpening the knives. Therefore, renting a bar mower is definitely cheaper. Equipment for rent is available from various providers. We have researched for you and put together an overview.
Bar mowers in agriculture
Notice: A bar mower is a very specific one that is often used in agriculture. Therefore, hardware stores often do not offer it as a rental device. Find out more from your regional specialist dealer or rental company.
providers
Bar mower rental rates
Hints
Boel's Rental
81.16 € / day from 5 rental days
- All prices plus costs for maintenance, fuel, grinding, wear and tear, transport, cleaning, accessories, environmental taxes, surcharges for indemnification, fire/theft regulations
- Price information often only on request, chargeable telephone number
RENTAS rental equipment
1 day: €52.00
1 week: €182.00
- Prices vary greatly depending on location
- mainly represented in northern and western Germany
- Security Deposit
erento.com
1 day: €48.00 - €77.35
2 days: €96.00 - €154.70
3 days: €144.00 - €232.05
1 WE: 98.00 - 164.00 €
1 week: €168.00 - €541.50
- Individuals/small businesses: sometimes cheaper
- Offer does not cover the whole of Germany
- individual deposit and rental conditions
- Partial delivery/pickup possible for an extra charge
- Prices vary greatly seasonally and regionally
bar mower
As the name suggests, the typical feature of a bar mower is the bar on which the cutting device is attached. Mowing is done according to the scissor cut principle. The plant material is cut against a fixed or movable counter rail by the oscillating movement of the knife rail, which is equipped with triangular knife blades. In general, the functional principle can be compared to a hair clipper or an electric hedge trimmer, for example. Since the bar blade is attached to the front end of the mower, the devices are also called front mowers or single-axle mowers.
areas of application
The mowers are used when it comes to cutting thin trees or taller grass. The recommended minimum height is a grass length of 20 centimetres. However, the front mowers also manage lengths of up to 150 centimetres. The devices are not suitable for normal lawn cutting, but rather for rough work.
Notice: The single-axle front mowers are suitable for any terrain, but also cope very well with slopes and difficult terrain that only needs to be mowed a few times a year.
conditions
In contrast to normal lawn mowers, the range of bar mower models is not as diverse. Nevertheless, when renting a bar mower, you should make sure that it suits your area of application so that you simply don't experience any nasty surprises.
Cutting mechanism of a bar mower; Source: User:MarkusHagenlocher, Agria beam mower, edited by Plantopedia, CC BY-SA 3.0
cutting speed
On a bar mower, the speed of the blade bar to the counter bar is called the cutting speed. The speed required for a perfect cut depends on the area of application:
Grass: 2.4 meters per second on average
thin trees: 1.75 meters per second on average
Notice: Rental devices usually meet these requirements, as the speed per minute is around 3,000 rpm.
bar width
The bar or cutting width is between almost 90 and 100 centimeters for the manual front mowers with petrol engines.
drive
Since the single-axle vehicles usually have a net weight of a good 50 kilograms, the drive for pushing plays a decisive role. Single-axle vehicles are mostly equipped with an internal combustion engine. This petrol engine drives not only the cutter bar, but also the wheels. This is an advantage because the mowers are very heavy (approx. 50 kilograms) and are therefore not very manoeuvrable when pushed.
Notice: Electrically operated bar mowers are rarely offered for rent. However, battery-powered devices are available from specialist retailers.
wheels
So that the front mower can also handle difficult terrain and slopes, you should also take a look at the wheels when renting. These should
have a comparatively larger diameter,
be wider and
have a very good profile.
grip and guidance
In order to protect your back, you should also pay attention to the handle (bar) when renting. Ideally this is
anti-vibration
height adjustable and
ergonomically shaped.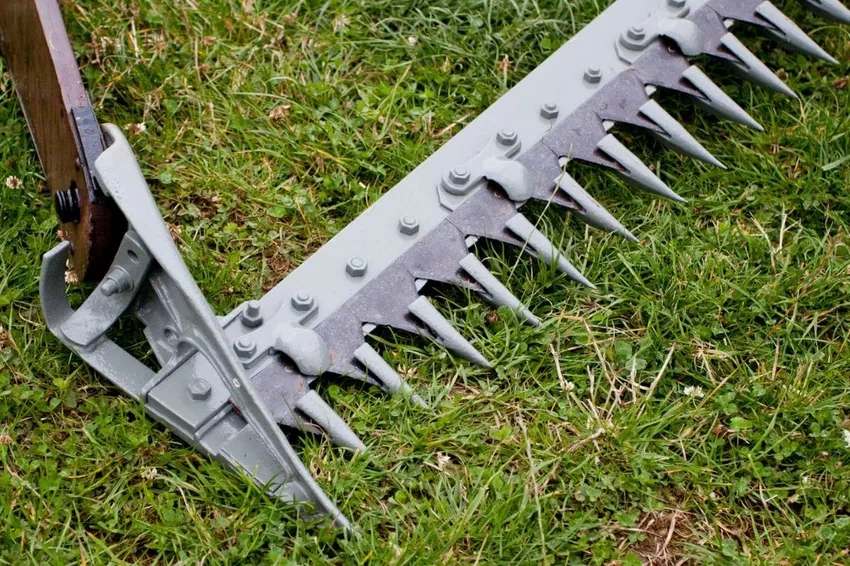 Cutting mechanism of an old beam mower
frequently asked Questions
Can I borrow a scythe mower from a hardware store?
Hardware stores rarely offer the devices. However, you should ask your hardware store.
Do I have to return the front mower clean?
When it comes to cleaning, you should follow the rules of the landlord.
Will the rental device also be delivered?
Basically yes, but this depends on the rental company.
Help the development of the site, sharing the article with friends!