Help the development of the site, sharing the article with friends!
The onion is one of the most important types of vegetables in German cuisine. It is available in countless varieties. The differences lie in the colour, shape, shelf life and above all in the aroma and spiciness. In the meantime, new onion varieties have been added to the well-established onion varieties. To help you choose the right variety for you, a list serves as a guide.
onion varieties
onions
The most common and well-known onion is the table onion, which is also known as the kitchen and household onion. It is cultivated the most in Germany. All varieties are generally slightly to moderately hotter than, for example, red onions. This is due to the essential oil "Allicin", which is found in abundance in onions. This is also responsible for watery eyes when peeling and/or cutting. Onions can be recognized by their skin, which varies between yellow and brownish. It usually attains a small to medium size. Various varieties are available.
onions
Borettana
flat, rounded shape
sweet taste
mild in taste
ideal for salads and for grilling
Dorata DiBologna
plump
durable
relatively new variety
subtle sharpness
Tamara F 1
new variety
lush size
very aromatic
mild sharpness
Texas Early
big in growth
late-ripening variety
a lot of aroma
slight sharpness
little sweetness
Onion sets in the vegetable patch
Schodeleer
Austrian variety
very flavorful with a medium degree of heat
Sturon
round and solid
smaller variety
long lasting, noticeable sharpness
Stuttgart giants
large-growing onion variety
excellent shelf life
medium sharpness
Zittau
round shape
from small to large scale
very good durability
good flavor
sharp in taste
vegetable onion
Vegetable onions can be extremely heavy. They are mainly imported from Spain. Some English vegetable onions impress with a weight of up to 1.5 kilograms. The different types of onions can be recognized by the light brown to copper-colored skin and the white, juicy flesh. Compared to a table onion, they show up with more mild flavor and sweetness. It offers the following varieties.
vegetable onion
Ailsa Craig
can weigh up to 700 grams
mild aroma
no sharpness
Exhibition
intense flavor
very large
very mild in sharpness
globe
Hungarian variety
Sweet
low sharpness
mild aroma
The Kelsae Allium Cepa L.
extremely lush growth
suitable for storage
very mild aroma
particularly sharp
Red onions
Red onion varieties are indispensable, especially in salads. They impress with a subtle sharpness and a slightly sweet taste. Most of them come from Italy to the German market. But some tasty types of onions are also grown here. The red onion varieties include the following in particular.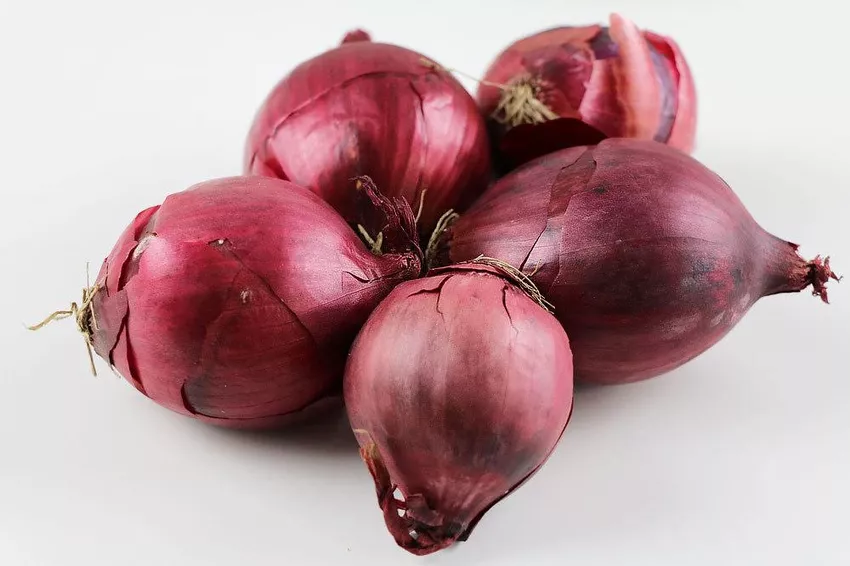 Red onions
Brunswick dark blood red
most famous variety
medium-sized
solid consistency
flat-round shape
very mild sharpness
Di Genova
early variety
flat-round
delicate consistency
soft aroma and mild sharpness
low durability
carmen
quality onion
flat round shape
strong aroma
slight sharpness
short shelf life
Redspark F1
hybrid breeding
round shape
strong aroma
slight sharpness
Rossa Lunga di Firenze
elongated shape
Hotness depending on maturity: young - mild hotness, medium - moderate hotness, mature - hot
Rossa di Tuscany
most famous Italian variety
intense taste
good durability
discreetly sharp
slightly sweet
Red onion and green onion
Tropea Rossa Lunga
oval, oblong shape
delicate textu
mild taste
gentle sharpness
wenta
Eastern European variety
red-violet shell
medium hot
slightly sweet
Spring onions (Allium cepa var.proliferum)
The tiered or aerial onion is comparatively unknown. Exactly where it came from is unclear. She made her way to Germany via France. It is relatively small and has a reddish color. Unlike most other onion varieties, they grow on the shoots. They are mainly found in gourmet cuisine due to their gentle aroma and spicy spiciness.
set onions
White onion varieties
White onion varieties are mainly used in southern Europe. In Germany it is rare to find. The different varieties have a fine, mild taste. The mild sharpness is more subtle than with yellow onions. Some examples can be found in the following varieties.
Yellow, White and Red Onions
Albion F1
special breeding
round shape
solid structure
tastefully
delicate sharpness
good storage ability
snow ball
early variety
Mildly spicy and very sweet in taste
slight sharpness
Sweet Spanish Jumbo or White Utah Jumbo
stronger sweet taste
no appreciable sharpness
Sliced white onion
Tonda Musona
silver white
spherical-round
slightly sweet with a subtle spiciness
Shallots (Allium cepa var. aggregatum)
Shallots are also called noble onions. They are an integral part of high-end cuisine. They are characterized by their mild aroma. The very small shallots usually have less heat than the larger ones. They are mainly used as a spice.
shallots
biztro
reddish brown
very aromatic
less heat than the Elista variety
Elista
intense aroma
slightly sweet taste
mediocre sharpness
Longor
french variety
very mild in aroma
pleasant sharpness
Zebrune
delicate taste
intense onion aroma
slight sharpness
light sweetness
spring onions
Although the spring or spring onion is reminiscent of leeks in appearance, it is related to the onion. Due to their delicate aroma and almost imperceptible sharpness, they are often used raw. Various types of spring onions are common in Germany, which hardly differ from each other in terms of aroma and the degree of sharpness and sweetness, such as those listed below.
spring onions
Allium fistulosum (winter onion)
Blanca de Lisboa
De Vaugirard (hardy)
freddy (Winter onion (Allium fistulosum))
Negaro (classic spring onion)
Red toga (very flavorful)
silver onions
Silver onions are mostly known from canned cucumbers, where they are inserted in a round shape, especially as a flavor spice. They can be recognized by their white, sometimes shimmering silver color. They are mainly imported fresh from Holland and Israel. There are some options for growing them yourself, but due to the lack of a protective layer, this proves to be much more difficult than growing conventional onions. The following silver onion types are used most frequently.
silver onions
Da Barletta
early variety
spicy taste
ideal for insertion
mild sharpness
moderate sweetness
Pompeii
small variety
very mild aroma
resembles the spring onion in sharpness
La Reine "White Queen"
very tastefull
mild spicy aroma
little sharpness
pearl onions
Pearl onions are similar to silver onions in appearance and are also used in almost the same way. In contrast to these, they are more closely related to leeks than to onions. Pearl onions are becoming increasingly rare as they are rarely cultivated anymore. For this reason, these onion varieties are increasingly being replaced by pearl onions.
pearl onions
Help the development of the site, sharing the article with friends!