Help the development of the site, sharing the article with friends!
No matter how well you get along with your neighbors, in a garden, on the terrace and on the balcony you need an undisturbed corner where you can be completely alone. Instead of a wall or a wooden fence, various tall plants are also suitable as privacy screens. This not only looks good, but also ensures comfort. So that the privacy screen can be implemented as quickly as possible, plants with sufficient height growth are necessary.
Tall plants as a privacy screen
Evergreen hedge plants
Hardy, evergreen plants are popular on the border of a property with a neighbor or on a street. Make sure that the shrubs tolerate pruning well so that you can keep the growth in check. Shrub forms that grow up to four meters high are ideal.
cherry laurel
The cherry laurel (Prunus laurocerasus) is easy to care for, opaque and gets along with almost all floors. No wonder it is at the top of the list for home gardeners looking for an evergreen privacy screen for the garden. The individual varieties not only differ in their frost hardiness and leaf color, but also in their growth height. So make sure you choose the right variety when you buy it.
A nerd among the different types of cherry laurel is the Portuguese cherry laurel. It is characterized by its single-trunk structure and can therefore be used for narrow and at the same time very high privacy hedges. The Portuguese cherry laurel is also suitable as a container plant for small outdoor spaces, as it can remain in the container for a few years without having to be repotted.
Spotted cherry laurel (Prunus laurocerasus 'Marbled White'): up to 3 m in height
Caucasian cherry laurel (Prunus laurocerasus 'Caucasica'): 2 to 3.5 m in height
Portuguese cherry laurel (Prunus lusitanica 'Angustifolia'): up to 5 m in height
Wintergreen privet
The evergreen privet (Ligustrum vulgare 'Atrovirens') is one of the fast-growing hedge plants. In contrast to the classic types of privet, this variety also shows itself in a green dress in the cold season. Only in very severe winters does the tree shed its leaves. In the spring, however, the foliage grows back quickly. Due to its soft leaves, the Ligustrum vulgare 'Atrovirens' has a particularly harmonious appearance. Privets are particularly suitable as garden plants for property borders and are very easy to cut.
for hedges between 1 and 4 m high
good frost hardy
Location: sunny to slightly shady
very location tolerant

Deciduous hedge plants
Year-round privacy is not always necessary. It is often only needed in the warmer months when you spend a lot of time outdoors. In this case, high hedge plants that lose their foliage in autumn are also possible.
hornbeam
A special feature among the native hedge plants is the hornbeam (Carpinus belutus). Because it can not only be cut very narrowly and thus takes up little space, it also keeps its foliage on the branches until new growth occurs. Although the leaves dry up and die off, they still offer a perfect privacy screen. This lasts until they are pushed out by the new leaves in spring.
very pruning compatible, high resilience
Growth rate: 20 - 30 cm per year
Growth height: up to 10 m
conifers
One of the classics among the privacy plants for the garden are conifers such as the tree of life. If you want to plant conifers on the balcony, you can also opt for dwarf forms depending on their size. For all these trees, the bucket must be large enough for the roots to spread well. Most potted plants also need winter protection.
tree of life
The thuja has become an integral part of our gardens. There are now arborvitae hedges everywhere as living privacy screens. The different types of thuja have a cone-shaped habit and a strong green colour, which also adorns them in winter. In addition, a tree of life is frost-resistant, opaque and easy to cut. It is suitable for sunny locations and is not particularly picky about the garden soil.
Occidental tree of life, Thuja occidentalis 'Smaragd': growth height between 4 and 6 m
Thuja occidentalis 'Brabant': 2 to 4 m, occasionally up to 10 m high
Thuja plicata 'Aurescens': 4 to 8 m growth height
yew
A yew (Taxus) is one of the garden plants from which high and, above all, opaque hedges can be formed as privacy screens. It is said to have all the good qualities of hedge plants. The evergreen shrub adapts very well to different site conditions and tolerates both sun and shade. In addition, a yew reliably sprout again after each pruning. However, the yew has one disadvantage: its needles and fruits are very poisonous.
Taxus baccata: growth height between 2 and 10 m
Columnar yew, Taxus baccata 'Fastigiata': columnar growth up to 8 m
Fruiting cup yew, Taxus media 'Hicksii': 3 to 5 m in height
Tall ornamental grasses
Hardy grasses with upright, tall growth are particularly popular as privacy screens.
bamboo
The variety of bamboo species is almost inexhaustible. When buying, make sure that the plant does not get too tall if it is to be cultivated on the balcony. Since the bamboo can spread uncontrollably through rhizomes throughout the garden over time, garden plants should have one rhizome lock to be built in. The real bamboo is not sufficiently hardy with us. But there is a whole range of breeds that can easily survive even the lowest temperatures.
Fargesia nitida: tightly upright growth between 2.5 and 4 m
Dino garden bamboo, Fargesia murielae 'Dino': fast-growing, up to 5 m high
Fargesia 'Black Cherry': black stalks, 2 to 3 m
Black umbrella bamboo, Fargesia nitida 'Black Pearl': purple-black culms, 3 to 4 m
Fargesia rufa: wide-growing, up to 2.2 m tall
Phyllostachys aureosulcata 'Spectabilis': 3 m (easily cut into shape)
Fargesia nitida, umbrella bamboo
elephant grass
The elephant grass (Miscanthus), also called Chinese reed, is often used in the garden as a natural privacy screen. The somewhat lower-growing varieties are also excellently suited. However, these grasses are not for sandy, barren corners. They like nutritious, deep soil that must not be too dry. Whole hedges can easily be formed from Miscanthus. The reed hedge comes into its own most beautifully when only a single variety is planted.
Giant reed, Miscanthus floridulus: fast-growing, up to 3 m high
Miscanthus sinensis 'Sirene': particularly large inflorescences, 2 to 2.5 m
Zebra grass, Miscanthus sinensis 'Zebrinus': yellowish striped leaves, up to 2.5 m high
Column switchgrass 'Northwind'
This great grass is indispensable for all garden designers and hobby architects. The columnar switchgrass grows upright, almost columnar. Planted in groups, it serves as a hedge-like privacy screen and is almost indestructible. It copes well with drought as well as with any other weather. And even in winter, when the filigree stalks are yellow and dried up, the columnar switchgrass with the graceful spikes is a real ornament. The perennial switchgrass 'Northwind' grows between 1.2 and 1.8 meters high and is therefore perfect for gardens, terraces and balconies.

climbing plants
An attractive alternative to high privacy plants are fast-growing climbing plants. They are not only the perfect solution for the terrace, but also for the balcony. Perennial climbing plants such as ivy or wild wine are suitable. If you don't want to do without flowers, you can use both perennial and annual plants. They grow very quickly and enchant with their blooms almost all summer long. As a container plant, they don't take up much space.
climbing jasmine
The hardy, evergreen climbing jasmine (Solanum jasminoides) is one of the vigorous pot plants for balconies and terraces. Thick clusters of white flowers adorn the tips of the shoots between May and October. In winter-warm regions, the climbing jasmine can even stay outside in a sheltered place during the cold season. Otherwise, however, overwintering in the house or a conservatory is necessary.
Location: sun to semi-shade
perennial
Cutting and trellis necessary
only partially frost resistant
Climbing Hydrangea
A popular garden plant for romantic gardens and cottage gardens is the hydrangea. The climbing variant is ideal for good privacy protection. A climbing hydrangea forms countless panicle flowers between June and July, which provide insects with a source of food and also smell wonderful. The hardy and urban climate-resistant wood only needs a climbing frame in the first few years. After that, she can climb up walls, palisades or even wicker fences.
Location: sun to shade
Growth height: 3 to 6 m
needs winter protection in the bucket
deciduous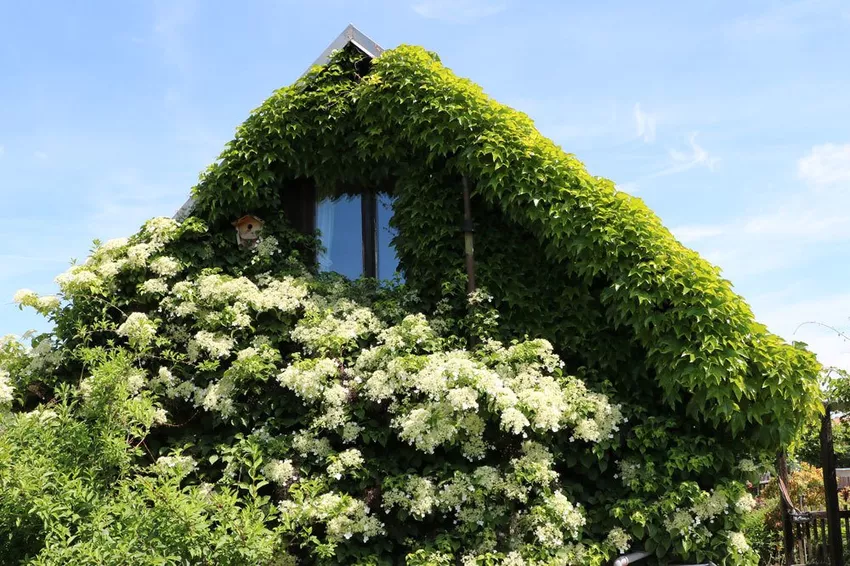 hop
With its powerful loops, the hop (humulus) climbs walls, fences or parapets at breakneck speed. It is extremely easy to care for and adaptable. In contrast to most other climbing plants, the hop does not form a stem, but retreats into the ground in autumn. Hops are perennial plants, so you can enjoy the uncomplicated climbing plant for many years.
self-climbing
Growth height between 4 and 10 m
spike-shaped flowers from June to September
deciduous
Help the development of the site, sharing the article with friends!