Help the development of the site, sharing the article with friends!
You surely know the old adage that every man in his life should have built a house, planted a tree and fathered a child. Planting a tree is not that difficult, but what do you do when the garden is too small for a house tree? Among our 15 suggestions you will surely find a suitable dwarf tree that is small enough even for a front yard or terraced house garden.
A to G
1. Flower Ash (Fraxinus ornus)
Source: Stefan.lefnaer, Fraxinus ornus (subsp. ornus) sl2, Edited by Plantopedia, CC BY-SA 4.0
In contrast to the strong-growing native ash and other ash species, the flower ash, also known as the manna ash, develops into a small tree that is only between six and eight meters high. The crown is rounded to conical, the striking creamy-white, fragrant flower spikes appear between May and June as the foliage unfolds. This attractive flowering tree is small in stature and is very suitable for gardens and patios, but can also be cultivated in large planters. It thrives best in sunny and warm locations.
2. Blood Plum (Prunus cerasifera 'Nigra')
This very robust small tree scores with a striking, dark crimson foliage color. The fast-growing wood is only between five and seven meters high and develops a broadly conical to rounded crown with age. The blood plum is particularly attractive in the months of March and April, when the numerous pink flowers open. The dark red fruits ripen in September.
3. Japanese maple (Acer palmatum)
The Japanese maple, native to East Asia, is certainly one of the most attractive ornamental trees with its filigree leaves and delicate structure. Meanwhile, there are numerous cultivars that find enough space even in the smallest gardens. Planted as a solitaire near the pond, in courtyards or in large planters, Japanese maples unfold their distinctive effect. They can be combined particularly well with ferns, grasses, bamboo and other small trees.
The Japanese maple grows either as a tree or as a shrub, with many varieties reaching heights of up to ten meters in old age. However, there is also a large selection of short-statured varieties. Characteristic of all Acer palmatum are
the richly branched growth
the delicate foliage
the up to ten centimeters wide, fine-lobed leaves
and the different colors of foliage
The foliage is usually fresh green, but depending on the variety it can also be intense red or yellow or even variegated. In addition, the leaves of all varieties take on a bright, yellow-orange to red autumn color in autumn.
Particularly recommended varieties
The following varieties of Japanese maple remain particularly small:
'Atropurpureum': upright habit, height between six and eight meters, bright purple foliage
'Beni-hime': very graceful growth, only one meter tall, leaves are wine-red when they shoot and later turn green
'Corallinum': graceful growth, between two and three meters high, leaves are initially bright pink and green in summer
'Crimson Queen': umbrella-shaped habit, up to two meters tall, leaves dark crimson, turning bright scarlet in autumn
'Wilson's Pink Dwarf': weak growth, up to 1.5 meters high, pink-red leaves when they shoot, fresh green in summer
Tip: In addition to the Japanese maple, other Asian Acer species are also very suitable for the small garden. The Japanese golden maple (Acer shirasawanum) only grows between seven and nine meters high, the monkshood maple (Acer japonicum, the 'Aconitifolium' variety with bright orange-red leaves is particularly pretty) only up to five meters.
4. Common Judas Tree (Cercis siliquastrum)
The Judas tree is a slow-growing, mostly multi-stemmed and deciduous dwarf tree that remains small with a growth height of between four and six meters. The species belongs to the group of early spring bloomers, since the butterfly flowers, which are up to two centimeters long, open long before the foliage develops. Unfortunately, the Judas tree is quite sensitive to frost and therefore thrives best in regions with mild winters.
J to M
5. Japanese ornamental cherry (Prunus serrulata)
The various varieties of Prunus serrulata usually develop into small, upright trees with ovoid to rounded crowns. Some varieties grow in a narrow columnar shape, while others have branches overhanging in wide arches. The dark green leaves, often bronze when they sprout, turn yellow to orange-red in autumn. Ornamental cherries bloom profusely between April and May with single to double, white to pink flowers. These varieties, which remain small, are particularly attractive for the garden:
'Amanogawa': columnar growth, six to eight meters high, up to three meters wide
'Pink Perfection': wide, upright growth, up to five meters high, hanging branches
'Royal Burgundy': wide, funnel-shaped growth, height of growth between five and seven meters, crown up to five meters wide
'Shogetsu': umbrella-shaped, hemispherical growth, up to five meters high
6. Canadian Judas tree 'Forest Pansy' (Cercis canadensis 'Forest Pansy')
Of the little-known Canadian Judas tree, the 'Forest Pansy' variety is predominantly planted in our gardens. It is a slow-growing small tree between three and six meters tall with several main branches and a fairly spreading crown. This tree not only stays small, but also impresses with an unusual foliage colour: the almost circular leaves, up to twelve centimeters long, are glossy purple-black when they sprout, later deep purple-red and finally dark green. The young petioles and shoots are also purple-black. Another advantage is the frost hardiness of this variety, which, by the way, is higher than that of the related common Judas tree.
7. Cornelian cherry (Cornus mas)
The cornel is a native early spring bloomer that provides valuable nectar and pollen to bees and other insects during its flowering period. The fruits that ripen in October not only serve as food for birds, but have also been considered healthy and versatile wild fruit for centuries. These properties are characteristic of the cornelian cherry:
slow growth
Growth height between four and six meters
shrub or small tree
broad, rounded crown
Flowering in February / March
edible fruits
native species, therefore adapted to Central European climate
Tip: If you value the fruit, choose the most productive and large-fruited varieties such as 'Jolico'. These were specially refined for this purpose.
8. Ball Trumpet Tree 'Nana' (Catalpa bignonioides 'Nana')
Source: User:Guide22, Trumpet Tree, Edited by Plantopedia, CC BY-SA 3.0
In contrast to the original species, the common trumpet tree, which grows up to 18 meters high, the ball trumpet tree reaches a quite compact growth height of between four and six meters. In addition, its crown is not wide and expansive, but spherical and therefore ideal for the small garden. Typical of the trumpet tree are the 10 to 15 centimeters long, richly branched and loose flower panicles. They appear in June and July. From them, the up to 40 centimeters long, bean-shaped fruits finally develop in autumn.
9. Magnolias (Magnolia)
Magnolias are undoubtedly one of the most attractive flowering shrubs that have come to our gardens from East Asian countries. Between April and July, depending on the species, they surprise again and again with their abundance of flowers and the large, elegant flowers. They are larger than the flowers of all other tree species in the temperate and subtropical zones. The creamy white, cupped flowers of the North American Magnolia macrophylla, the large-flowered magnolia, for example, can reach diameters of up to 40 centimeters. In addition, many magnolias are also suitable for small gardens because they do not grow particularly high. These species and varieties remain rather small:
Kobushi magnolia (Magnolia kobus): eight to ten meters high, slow growth, rounded crown up to five meters wide, very robust
Purple magnolia (Magnolia liliiflora 'Nigra'): growth height between three and five meters, same growth width, rather shrub-like growth except for the small tree-like varieties 'Galaxy' and 'Star Wars'
Loebner's magnolia (Magnolia x loebneri 'Merill'): large shrub or small tree, height between four and six meters, conical crown
Tulip magnolia (Magnolia x soulangiana): wide, sprawling, short-stemmed small tree, up to six meters tall
Star magnolia (Magnolia stellata): only up to three meters high, ideal for very small gardens
P to S
10. Pagoda dogwood (Cornus controversa)
Source: Sailko, Orto botanico, fi, cornus controversa variegata, Edited by Plantopedia, CC BY-SA 3.0
The pagoda dogwood develops into a rather small tree, only eight to ten meters high. Characteristic of this elegant solitary tree are the horizontally protruding branches, which are arranged in regular tiers. They give the wood a very idiosyncratic, pagoda-like structure. The 'Variegata' variety grows significantly weaker than the species and also scores with its irregular yellowish-white-edged leaves.
11. False beech (Nothofagus antarctica)
Source: Wouter Hagens, Nothofagus antarctica E, Adapted from Plantopedia, CC0 1.0
The false beech is a deciduous tree of the southern hemisphere, which hardly grows more than six meters high here. The initially upright, later irregularly growing small tree impresses with its idiosyncratic and filigree structure and the blackish bark. It is well suited as a solitary tree and is also often planted in courtyards or near buildings. In autumn the leaves turn golden yellow.
12. Norway maple 'Globosum' (Acer platanoides 'Globosum')
The native Norway maple normally grows into a stately and broad-crowned tree with a height of up to 30 meters. The fast-growing species is therefore very popular as a park and avenue tree as well as in large gardens. But even if your garden is small and the tree must therefore be small, you do not have to do without a house tree. The solution is the dainty cultivar 'Globosum', which with its spherical crown is wonderfully suited for front gardens or terraced house gardens.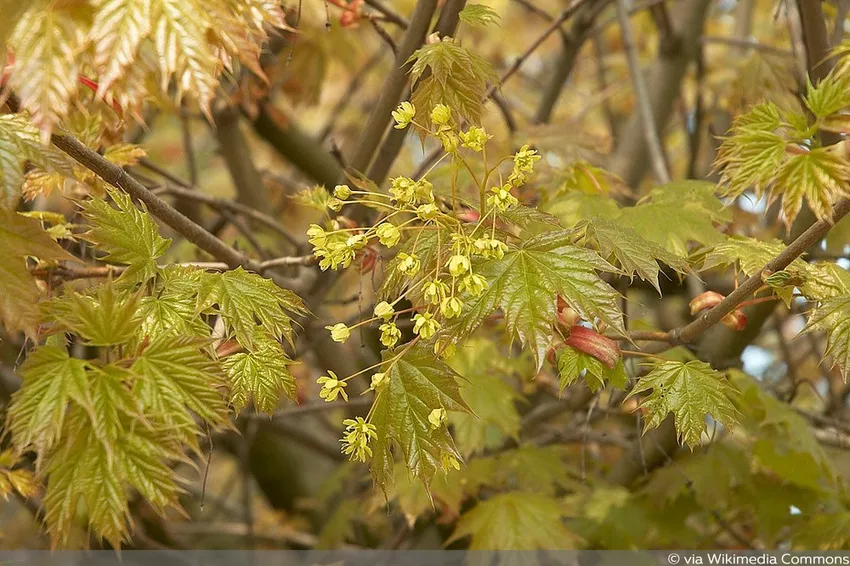 Source: Wouter Hagens, Acer platanoides Globosum C, Adapted from Plantopedia, CC BY-SA 3.0
The Norway maple 'Globosum' only grows to a height of between four and seven metres. Its crown is spherical to flattened and not as spreading as the species. The five-lobed, glossy dark green leaves are also much smaller - a real dwarf tree.
Tip: Also recommended is the Norway maple 'Crimson Sentry', which has a narrow, columnar habit and is only up to ten meters high.
W to Z
13. Willow-leaved Pear (Pyrus salicifolia 'Pendula')
Source: Averater, Pyrus salicifolia 'Pendula' 03, Edited from Plantopedia, CC BY-SA 3.0
The willow-leaved pear grows very slowly and also develops into a tree between five and nine meters high, mostly with short trunks and branches that extend horizontally and curve downwards. In April, the small tree bears numerous white flowers, two centimeters long, in small cymes. The two to three centimeters long, pear-shaped fruits are hard and inedible. This robust tree is very suitable for a solitary position in the garden.
14. Ornamental apple
Ornamental apple with many fruits
Ornamental apples are among the most attractive flowering trees in the garden, and they are often rather small in stature. Numerous species and varieties not only delight us with an exuberant abundance of flowers in spring, but they also attract attention again in autumn with a rich fruit decoration. In some varieties, the small apples remain on the tree well into winter before they become tender and serve as bird seed. These types and varieties are particularly attractive:
Multi-flowered apple (Malus floribunda): four to ten meters high, deciduous, broad, densely branched crown
Japanese apple (Malus toringo): Height of growth between five and six metres, wide, upright habit with far-reaching branches
Malus hybrids: Small trees between four and six meters high, often Malus floribunda hybrids, large selection of varieties
15. Dwarf Birch (Betula nana)
Source: Frank Vassen from Brussels, Belgium, Dwarf Birch (Betula nana), Elsenborn, Ostbelgien (4860757421), Edited by Plantopedia, CC BY 2.0
This pretty dwarf tree remains very small in stature throughout its life. With its rather low-lying branches, it reaches heights of growth of only 0.5 to one meter. Since the tree is at home in the bogs of northern Europe and Siberia, it needs wet, nutrient-poor soil. Ideal locations are therefore swamp and water gardens as well as stone and heath gardens.
Help the development of the site, sharing the article with friends!