Help the development of the site, sharing the article with friends!
Perennials are perennial, hardy and easy-care plants and the basis of a beautiful garden. The range of flowering, ground-covering or decorative leaf perennials for the penumbra is extremely varied. There is something for every taste, garden style, soil and location. They can stand in the same place for many years. Placed correctly, they come into their own in individual and group positions or as hedge and background plants and can be combined in many ways.
Perennials for the penumbra
When it comes to garden design, hardy perennials are usually always the first choice. But not all perennials are the same, because each has its own requirements, especially when it comes to the right location. Accordingly, perennials for the penumbra tolerate neither direct sun nor permanent sunlight. They prefer shaded areas with short-term but regular sunlight. Partially shaded locations are shaded for about half of the day. The sun only shines here in the morning or in the evening. Once the best place has been found, it is time to choose the plants.
Small and ground covering perennials
From A - E
Waldsteinia runner-forming (Waldsteinia ternata)
From April to June, these plants develop beautiful carpets of rich yellow, cupped flowers from runners. They form a great contrast to the fresh green foliage. They grow up to 15 cm high and come into their own in small or large groups.
Golden strawberry, Waldsteinia, Waldsteinia ternata
Balkan cranesbill 'Spessart' (Geranium macrorrhizum)
With its extravagant pink buds and whitish flowers, the Balkan cranesbill adorns beds and borders from May to July. The strong green and strongly scented foliage then turns yellowish to reddish in autumn. The growth height is about 30 cm.
tip: Geranium macrorrhizum is best planted in groups of three to seven. This is how they can best develop their effect.
Blue and Gold Funkie 'June' (Hosta tardiana)
Hostas are decorative foliage plants, the greatest adornment of which is the intensive coloring of their large leaves. A particularly magnificent specimen is the only 20-25 cm blue-gold Funkie. The powdery-looking, bluish-golden leaves with an irregular blue-green edge are a real eye-catcher in early summer. From July to August, pale violet to white, racemose racemes on upright stems are enthroned above the leaves.
Chinese leadwort (Ceratostigma plumbaginoides)
The leadwort, which is up to 25 cm high, blooms relatively late. From August to October, it adorns itself with a bright, gentian-blue bloom. This late summer perennial is hardy, very propagating and quickly forms colorful cushions. The gray-green of the leaves turns reddish in autumn.
Chinese leadwort, Ceratostigma plumbaginoides
Elf Flower 'Frohnleiten' (Epimedium perralchicum)
Elf flower 'Frohnleiten', a very vigorous foliage perennial
Up to 40 cm high, flat ground cover
Notable for its colorful foliage
Leaves marked brownish-green
Brown-red color in autumn
Flowering time from April to May
Flowers small, graceful, sulphur-yellow
Elf Flower 'Frohnleiten', Epimedium perralchicum
From I - V
Periwinkle 'Alba' (Vinca minor)
The periwinkle is generally hardy, very versatile and undemanding, as is the 'Alba' variety. The carpet-forming dwarf perennial has dense, dark green foliage and bright white flowers from May to September. These ground-covering, hardy perennials reach heights of growth of up to 20 cm.
tip: The white-flowered periwinkle can be combined very well with the blue-flowered periwinkle.
Lung herbs (Pulmonaria)
Lung herbs usually flower from March to April. Its delicate flowers, arranged in clusters, can be red, violet, blue or white. The leaves, whose shape varies depending on the species, are also very decorative. They are completely green, mottled with white or have a silver-grey surface. Lung herbs rarely grow taller than 20-30 cm.
Italian lungwort, Pulmonaria saccharata
Moss Saxifrage 'Carpet of Flowers' (Saxifraga arendsii)
This up to 15 cm tall, cushion-forming rock garden perennial stands out from April to May with its calyx-shaped, carmine-pink flowers. Its leaves form rosettes, from which evergreen cushions develop, which are covered by the colorful flowers in spring.
Rose Woodruff (Phuopsis stylosa)
Long, prostrate shoots with which it forms dense carpets are characteristic of the rose woodruff. When it flowers from June to August, this vigorous, up to 20 cm high groundcover shows its spherical or radiating, pink and intensively scented flower balls.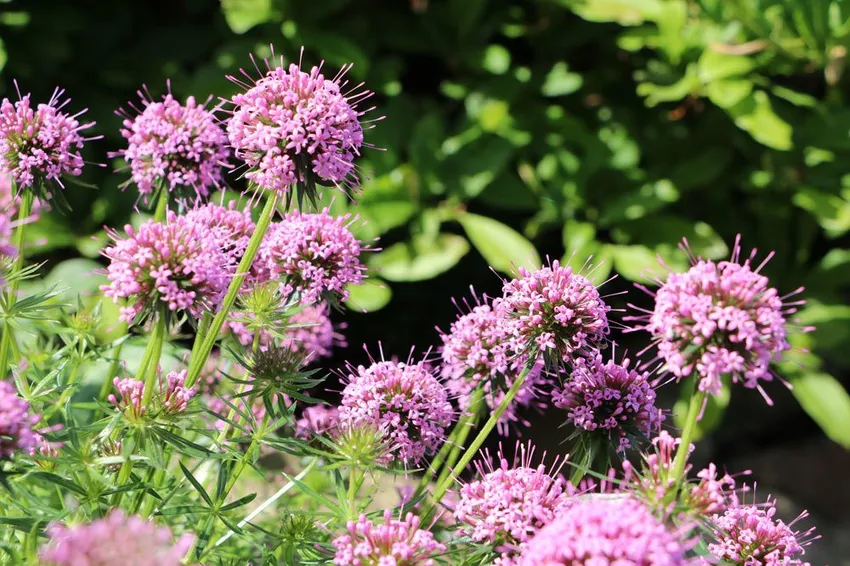 Velvety bellflower 'Berry Smoothie' (R) (Heuchera villosa)
This silverbell presents itself with beautifully colored foliage in the partial shade. Its pink, rounded and slightly wavy leaves make it a coveted ornamental foliage perennial. From June to August these 20-50 cm tall plants bear white, panicle-shaped flowers.

Forget-me-not (Myosotis)
In its original form, forget-me-not flowers blue
Now also available with white and pink-blue flowers
Can sometimes even be two or more colors
Flowers are long-stalked panicles
Consists of many small individual flowers
Leaf color varies between a rich and dark green
Spring bloomers grow to a height of 20-40 cm
It comes into its own in larger groups.
Forget-me-not, Myosotis
medium-tall species
From B - H
Monkshood (Aconitum napellus)
Monkshood is one of the most attractive plants in the garden. From June to August, the deep violet-blue, helmet-like flowers sit on their stiff, upright, leafy and 120-160 cm high stems. They are four to five centimeters tall and stand in long, dense racemes.
Monkshood, Aconitum napellus
tip: As beautiful as the blue monkshood is, it is one of the most poisonous plants in our latitudes.
Garden Bellflower 'Prichard' (Campanula lactiflora)
From June to August, this umbel bellflower produces large numbers of small, purple-blue, bell-shaped and pleasantly scented flowers. Its leaves are medium and deciduous green. It reaches heights of about 80 cm.
tip: A little support and a complete pruning after flowering is recommended.
Autumn anemone 'Honorine Jobert' (Anemone x japonica)
The autumn anemone 'Honorine Jobert' combines timeless elegance with classic beauty. Because with its semi-double, pure white flowers and the clearly visible yellow stamens, it is the star in autumn borders and in partial shade. The high-contrast flowers sit on very filigree stems with blue-grey leaves. The growth height is 80 cm.
tip: Frost and sun protection is recommended in the case of frost.
From S - T
Slender Fuchsia (Fuchsia magellanica var. Gracilis)
Fuchsia has a slender, densely bushy and graceful habit
The greatest decoration are the bell-shaped flowers
Notable for their crimson-violet coloration
The long, protruding stamens are also striking
Stems are slightly reddish in color
Grow up to 80 cm long
Flowering time lasts from July to September
Tree peony 'Pink Beauty' (Paeonia rockii 'Fen Xi Shi')
In May and June, this shrub peony, which is 120 cm high, presents all its splendour, the large, half-double and slightly ruffled flowers. They show a color gradient from pure white to a delicate pink with dark purple basalt spots on the inside. They also give off a pleasant scent.
Tabular Leaf (Astilboides tabularis)
Tafelblatt is hardy and up to 100 cm high
Leaves are huge and extremely decorative
Can reach diameters of up to 90 cm
Are rough, hairy and notched on the edge
Chalkboard sheet has a high space requirement
The comparatively small, greenish-white flowers appear in June
They are arranged in a panicle

Bleeding heart (Lamprocapnos spectabilis)
From May onwards, the striking, heart-shaped, white to pink-red flowers with a white, teardrop-shaped appendage sit tightly together on long, arching, overhanging shoots. The green, two- to three-pinnate leaves are also very decorative. The bleeding heart is fully hardy and grows to 60-80 cm in height.
crying heart
Tall hardy semi-shade perennials
From A - G
Columbine Meadow Rue 'Black Stockings' (Thalictrum aquilegif.webpolium)
This magnificent meadow rue is a gem in every garden. It grows upright with black leafy stems and showy beautiful large purple-pink flower umbels. They adorn the up to 170 cm high plant from July to August.
Garden October Silver Cohosh (Cimicifuga simplex)
With its pure white, candle-like flower panicles, this attractive perennial brings the summer to a close. The flowers appear in large numbers from September to October. They make for a magical sight and brighten up partially shaded areas in the garden. This silver candle is also hardy and grows up to 130 cm high.
Spice shrub 'Hartlage Wine' (Calycanthus raulstonii)
The spice bush is a rather rare flowering perennial. In addition to glossy green foliage that turns buttery yellow in fall, it displays beautiful blooms between May and September. They are carmine red, lightened to cream in the middle and delicately scented. This perennial grows up to 300 cm tall.
From H - R
Tall goat's beard (Aruncus dioicus)
This plant is valued both for its up to 30 cm long, creamy-white panicles of flowers and the doubly pinnate, dark green leaves. The spreading perennial is very hardy and can reach heights of up to 200 cm.
Bay-leaved cistus (Cistus laurifolius P1)
This richly flowering cistus, up to 150 cm high, is considered to be hardy in warm regions, provided it is protected from the winter sun and severe frosts. From July to August, its numerous white and cup-shaped flowers form a beautiful contrast to the evergreen foliage with a spicy, tart scent.
tip: Although this perennial is hardy, light winter protection in the form of a cover is recommended.
Panicle Hydrangea 'Limelight' -S- (Hydrangea paniculata)
The growth of this panicle hydrangea is stable, upright and bushy. The flower spikes, which are up to 30 cm long, gave this plant its name. From July to September/October, it will be on display in all its glory. This fast-growing hydrangea can reach sizes of up to 200 cm.
Red angelica (Angelica gigas)
Red angelica extremely decorative during flowering
Flowers are purple, dome-shaped umbels
They sit on stalks that are also purple
Can reach diameters of up to 15 cm
Flowering time extends from July to September
Growth height is up to 200 cm
In the first year only leaves come out of a large rosette
Only in the second year do the crimson stems and flowers appear
tip: In case of skin contact, however, the leaves of these plants may cause an allergic skin reaction in susceptible individuals. It is therefore advisable to wear gloves and, above all, long-sleeved clothing when handling it.
Help the development of the site, sharing the article with friends!